Mochi wire action game Mochi A Girl for Switch launches December 12 in Japan
60 stages to clear and 63 types of sushi to collect.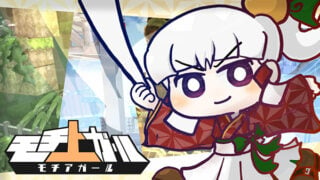 Wire action game Mochi A Girl will launch for Switch via the Nintendo eShop on December 12 in Japan for 2,750 yen, publisher Mediascape and developer Mumimumi announced. Its language support is limited to Japanese.
Here is an overview of the game, via the Nintendo eShop:
Easy controls! Exhilarating and springy wire action!

A to Jump, A to Mochi Toss, A to Dash, and A to Swing – Every action can be performed with only the A button and left analog stick. This is a 2D wire action game that anyone can enjoy.
Various Exhilarating Stage Mechanics – From water you can swim in at high speed, cannons you can shoot out of, and poles you can hang from to jump high, this game is full of exhilarating stage mechanics.
Lenient Game Balance – Since you will not die if you run into an enemy, nor get a game over no matter how many times you fall from the stage, this is a casual game that even beginners can enjoy.
Tons of Cute Characters

Yuki – The mirror mochi-esque girl protagonist.
Mugi – The rival New Year's udon.
Marumochi-maru – An awfully big little chick.
Nasa-maru No. 4 – An armed moon.
And more!

Boss Battles – In battles against difficult bosses, use strategies like firing missiles and ramming the enemy from behind.
Collect Sushi – Complete your collection of 63 types of strange sushi. From "tuna" to "hamachi," "egg," "tekkamaki," and "chocolate cake," everything is here!
60 Stages – From easy stages to difficult stages, there are 30 diverse main stages such as "Bamboo Thicket," "Snow Field," "Sea Coast," and "Wooden House," as well as additional 30 Time Attack Mode stages for a total of 60 stages.
Award Winner at Various Events

Best Game Art Award at Kamon Kokusai Anime-Manga Festival Game Contest
Grand Champion of Unity Inter High 2018
Gold Prize at Japan Game Awards U18 Division 2018
Watch a new trailer below.