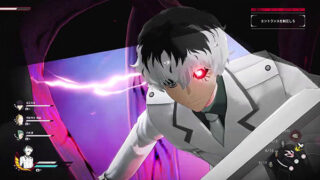 Bandai Namco has released two new gameplay videos of Tokyo Ghoul: re Call to Exist showcasing "Campaign" and "Recollections" modes.
Campaign is a cooperative mode where the goal is to clear the given mission, while Recollections is a single-player mode where you play as the main character to get accustomed to the game.
Here is an overview of the game, via Bandai Namco:
In Tokyo Ghoul: re Call to Exist, a war for survival is being waged between Ghouls and Investigators on the streets of Japan's largest metropolitan city. Based off the popular horror manga, Tokyo Ghoul: re Call to Exist is the first video game of the franchise to come to the West, uniting the characters from Tokyo Ghoul, Tokyo Ghoul √A, and the Tokyo Ghoul: re series in an action-packed conflict between man and ghoul with co-op and single-player battles.
Tokyo Ghoul: re Call to Exist is due out for PlayStation 4 on November 14 in Japan, and for PlayStation 4 and PC via Steam on November 15 in the Americas and Europe.
Watch the footage below.
Campaign Gameplay
Recollections Gameplay