No More Heroes III is 35 to 45 percent complete, has a bigger open world than No More Heroes 1
New trailer coming either this year or early 2020.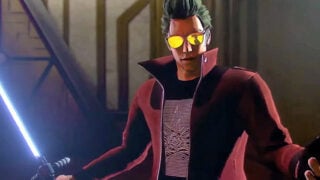 Grasshopper Manufacture CEO and No More Heroes III director Goichi Suda shared new details on the upcoming sequel during a recent interview with Wccftech, including the game's progress, details on its open world, and more.
Get the tidbits below.
Development is about 35 to 40 percent complete.
The budget for No More Heroes III is not Grasshopper Manufacture's biggest.
The open world will be bigger than the original No More Heroes', but not as big as something you would see in a Ubisoft or Rockstar Game. There will be "about the amount of side missions you'd expect from a No More Heroes game, along with some other extras"—"something different than your standard mini-game."
They suit Travis wears in the announcement trailer will be playable in the final game, but only in "certain special circumstances."
The Beam Katana charge motion control will reappear, but "the real challenge was figuring out how to best use the Switch hardware."
A new trailer will be released "this year or early next year."
No More Heroes III is due out for Switch in 2020.