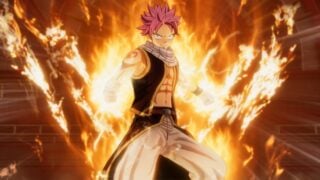 Fairy Tail will launch for PC via Steam worldwide and PlayStation 4 and Switch in Europe and Japan on March 19, 2020, and for PlayStation 4 and Switch on March 20 in North America, publisher Koei Tecmo and developer Gust announced.
Early purchases will include a special costume for Erza. A Digital Deluxe edition will also be available, which includes the "Great Magic Games Team Costumes" set, a bonus Lacrima set, and an exclusive Ryza costume for Lucy (from Atelier Ryza: Ever Darkness & the Secret Hideout).
In Japan, the standard edition will cost 8,580 yen, and a limited edition "Guild Box" edition of the game will cost 14,080 yen. The Guild Box includes a copy of the game, special-illustrated B2 cloth poster, "Weekly Sorcerer" special issue, three character 3D cards, and a special sticker set.
Koei Tecmo also released a new trailer. Here is the publisher's description of the trailer:
Gust Studios announce five new playable characters joining the fray – "Sky God Slayer" Sherria Blendy from Lamia Scale, the "Strongest Fencer" Kagura Mikazuchi from Mermaid Heel, the "Handsome" Blue Pegasus mage Ichiya Vandalay Kotobuki, and the "White Dragon" Sting Eucliffe and "Shadow Dragon" Rogue Cheney from Sabertooth. With more than 12 playable characters available, players will able to form a dream team with Fairy Tail members and their rivals and set off on an adventure like never before.
Watch the trailer, as well as some new gameplay footage, below.
Trailer
Gameplay
16:17 – Exploring Magnolia (playing as Wendy)
29:26 – Enemy Battles (playing as Gajeel)
32:04 – Event Battle (playing as Gajeel)
1:12:07 – Wendy and Gajeel Conversation
https://www.youtube.com/watch?v=EFne6UUQhp4
Update 12/01/19 at 9:25 p.m.: Clarified release date specifics for North America.