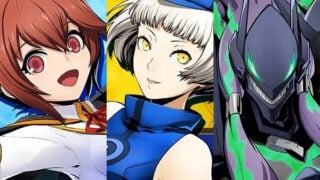 Arc System Works has released a new trailer for BlazBlue: Cross Tag Battle introducing downloadable content characters Celica A. Mercury and Susanoo from BlazBlue: Central Fiction, and Elizabeth from Persona 4 Arena Ultimax.
Celica A. Mercury, Elizabeth, and Susanoo is part of the $24.99 "Version 2.0 Content Pack" add-on due out alongside the free BlazBlue: Cross Tag Battle version 2.0 update on November 21. The add-on includes the nine additional playable characters, a new scenario, and new character interactions and colors.
Previous trailers introduced Tohru Adachi, Hilda, Blitztank, Akatsuki, Neo Politan, and Yumi.
BlazBlue: Cross Tag Battle is available now for PlayStation 4, Switch, and PC.
Watch the trailer below.
Celica A. Mercury
Elizabeth
Susanoo