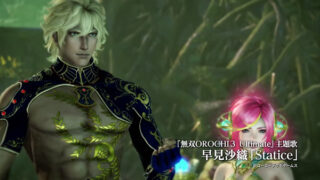 Koei Tecmo has released a new trailer for Warriors Orochi 4 Ultimate featuring the ending theme song "Statice."
"Statice" is sung by Gaia voice actor Saori Hayami, composed by Nozomi Tanabe, Gratia, and Keita Takiguchi, and arranged by Wataru Maeguchi. The lyrics for the English version were written by Eliana.
Warriors Orochi 4 Ultimate is due out for PlayStation 4 and Switch on December 19 in Japan, and for PlayStation 4, Xbox One, Switch, and PC via Steam on February 14, 2020 in North America and Europe.
Watch the trailer below.