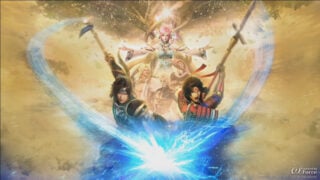 Warriors Orochi 4 Ultimate will launch for PlayStation 4 and Switch on December 19 in Japan for 7,800 yen, publisher Koei Tecmo and developer Omega Force announced at the "Warriors Orochi 4 Ultimate Official Broadcast Ver. Ultimate" stage event at Tokyo Game Show 2019. A downloadable content "Upgrade Pack" will also be available for 4,800 yen for users who already own Warriors Orochi 4.
Early purchases will include a bonus costume for Gaia. Additionally, pre-orders for the digital edition will include three PlayStation Network avatars (PlayStation 4 version-only) and a bonus mount "Dark Horse from the Underworld."
A digital-only Deluxe Edition will also be available for 8,800 yen (5,800 yen if purchasing as an Upgrade Pack) and include the following:
Legendary Costume Orochi Pack 4
Two special costumes
Two Sacred Treasures
Legendary Weapons Orochi Pack 4
BGM Pack 2
Three Bonus Weapons
300,000 Stock Experience
3,000 Arena Points
100 Crystals
Early character unlocks for Kyuubi, Tamamo no Mae, and Yinglong
Additionally, the company announced two more new characters set to appear in the game: Hades (a brand-new character) and Achilles (from Warriors: Legend of Troy). It was also confirmed that the previously announced new character Gaia is voiced by Saori Hayami, who sings the game's theme song.
Warriors Orochi 4 Ultimate will launch for PlayStation 4, Xbox One, Switch, and PC in North America and Europe in February 2020. The PC version will also release in Japan at that time.
Watch a new trailer and gameplay video below.
Trailer
Gameplay