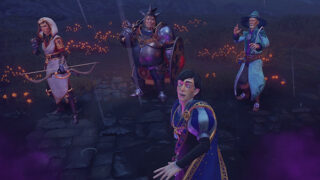 Publisher Modus Games and developer Frozenbyte have released a story trailer for Trine 4: The Nightmare Prince.
Here is an overview of the game's story, via Modus Games:
Trine 4: The Nightmare Prince finds series stars Zoya the Thief, Amadeus the Wizard, and Pontius the Knight reunited to track down Prince Selius, an overzealous youth whose wish to wield magic has enveloped the kingdom with shadowy creatures beyond his control. Prince Selius' ability to make anyone's most potent fears a reality leaves little time for the trio trailing him to reverse the curse, as the prince's dream-fueled spells grow ever more dangerous.

Set within a charming fairytale universe rife with wondrous sights and perplexing puzzles, Trine 4: The Nightmare Prince elevates the fan-favorite co-op series to new heights. Overhauled combat and expansive skill trees help players get as invested into the action as their preferred hero, and the game's puzzles change based on how many players are in a group to make sure exploration feels as satisfying solo as it does in a team of four.
Frozenbyte 4: The Nightmare Prince is due out for PlayStation 4, Xbox One, Switch, and PC on October 8. On the same day, a Trine: Ultimate Collection featuring all four Trine titles will also be available. Read more about the sequel and collection here.
Watch the trailer below.