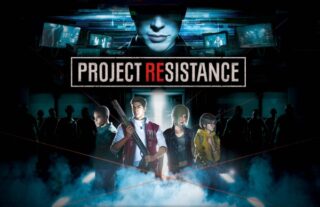 Capcom has released the first details, trailer, and screenshots for Project Resistance, its new four-versus-one survival horror game set in the Resident Evil universe and developed by NeoBards Entertainment for PlayStation 4, Xbox One, and PC.
Get the details below.
Today at Tokyo Game Show (TGS), Capcom unveiled a new type of survival horror set in the Resident Evil universe, Project Resistance (working title). This asymmetric online five-person multiplayer game combines both cooperative and competitive dynamics, with the opportunity for players to create their own survival horror experience. Four Survivors must work together to escape an insidious experiment and outsmart the twisted Mastermind behind the scenes. Capcom is developing Project Resistance in partnership with NeoBards Entertainment, utilizing the proprietary RE Engine known for high quality gameplay and remarkable visual fidelity in games such as Resident Evil 2 and Devil May Cry 5. It is currently being developed for the PlayStation 4 computer entertainment system, the Xbox One family of devices including Xbox One X, and Steam.

In each four-versus-one match, one Mastermind player tracks the four Survivors through a network of security cameras, staying one step ahead at every turn to prevent their escape. The Mastermind plots a deadly course by wielding a strategic deck of cards to create dangerous obstacles for the Survivors, such as summoning vicious creatures, setting traps, manipulating the environment, and weaponizing security cameras. He or she can also directly control zombies in play. In addition, Mastermind players can even step into the trench coat of the towering, deadly Tyrant for the first time in franchise history. In turn, the Survivors must cooperatively work together as a team to fend off the Mastermind's attacks and complete puzzle style mission objectives to escape the map before time runs out. Each Survivor possesses unique skills to help their team overcome the Mastermind's challenges and survive the sinister experiment.
Here are some more details, via the official website:
■ Game Information

Mastermind (Strategy) vs. Survivors (Cooperation)

Welcome to Raccoon City, home of Umbrella and its world class biomedical research.

Capcom's Project Resistance is a new one-versus-four asymmetric online survival horror experience set in the world of Resident Evil. Unleash your inner evil as a cunning Mastermind or join the fight as one of the resourceful Survivors desperately trying to escape every obstacle the Mastermind puts in their way!

■ Gameplay

◆ Objective

Survivors will win if they manage to escape before time runs out. The Mastermind will win if they manage to prevent all survivors from escaping.

◆ The Mastermind

They secretly kidnap young people for the purpose of data gathering.

By forcing these youths into desperate situations, the Mastermind aims to gather valuable research data on how the subjects respond to fear. The Mastermind will not face the Survivors directly. Instead, they observe through the security cameras, setting traps to prevent their escape.

Cameras

The Mastermind can observe the Survivors' actions through the security cameras placed all around the facility.

Cards

The Mastermind can use cards to create all sorts of chaos including placing traps and vicious creatures on the map and weaponizing security cameras.

Creatures

The Mastermind can take direct control of zombies and the Tyrant to attack Survivors.

◆ Survivors

A group of youths with different backgrounds who were captured by Umbrella for use in its experiments.

They only have one objective: escape. Survivors will need to use their unique skills effectively to cover each other and defeat the creatures together. Cooperation and coordination are vital to success.

Completing Stages

By completing objectives such as obtaining specific items, Survivors can advance to the next area. Survivors will successfully escape once they complete the third area in a level.

Time Limits and Respawns

When a Survivor takes too much damage, they will start dying. They will not be able to move freely while in this state, but a nearby teammate can revive them. If they fail to get help in time, they will respawn, but lose a chunk of time.

Skills

Survivors each have their own special skills. Damage reduction, healing, melee attack, hacking—use your skills effectively and escape together.

■ Characters

◆ Mastermind

Unknown: Daniel Fabron

◆ Survivors

Damage: Samuel Jordan

Sam has high health and excels in close-quarters combat. He was a promising boxer until sustaining a career-ending injury during a boxing match. Opted to take part in a new medical trial in the hopes it would heal him and get him back in the ring. He has not been heard from since.

Dash Punch" Dashes forward quickly and punches the nearest enemy.
Fists of Iron: Uses boxing skills to give enemies the old one-two.

Hacker: January Van Sant

January can hack cameras to limit the Mastermind's ability to observe. She is an expert hacker, investigating the illegal dealings between Umbrella and the Raccoon Police Department. She suddenly disappeared without passing on her findings to anyone.

Overload: Disables cameras, obstructing the Mastermind's actions.
EMP: Impairs all cameras and increases the cost of using cards for the Mastermind.

Support: Valerie Harmon

Valerie is a chemist who excels in healing teammates. She successfully joined the Umbrella research team as an intern, until her roommate began to suffer from memory disorder. Valerie was kidnapped while searching for the cause of disorder.

Survival Instinct: Marks nearby items and threats, making them easier for teammates to find.
Modified First Aid Spray: Uses a limited-duration first aid spray to heal or buff nearby teammates.

Tank: Tyrone Henry

Tyrone has high defense and excels in close-quarters combat. Working for the Raccoon City Fire Department, Tyrone went to fight a fire at an Umbrella factory, and was never heard from since. The fire department reported him as killed in the line of duty.

Power Kick: Attacks enemies in front of him with a powerful kick.
Rally: Increases the morale of teammates, decreasing damage taken for a set duration.

■ Closed Beta Test

The Project Resistance closed beta is coming to PlayStation 4 and Xbox One! Don't miss out on your chance to try the online asymmetric survival horror set in the world of Resident Evil!

Beta Period: Friday, October 4, 12:00 a.m. — Monday, October 7, 12:00 a.m. (PST)

Sign-up here.
Watch the Tokyo Game Show 2019 trailer below. View the first screenshots at the gallery.