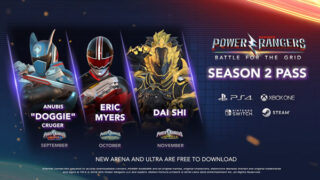 Developer nWay has released the trailer for the second Season Pass for Power Rangers fighting game Power Rangers: Battle for the Grid. Season 2 will launch for Xbox One and PC today for $14.99, followed by PlayStation 4 in the Americas on September 25 and Switch in the Americas on September 27, and both platforms in Europe during the first week of October.
Here is an overview of Season Pass 2, via nWay:
New Characters:

Anubis 'Doggie' Cruger – Power Rangers S.P.D. (Available Now | $5.99) Anubis 'Doggie' Cruger is the commander of Space Patrol Delta on Earth. Also known as the Shadow Ranger, he is a master swordsman who is able to use a variety of blade attacks from short and long range.
Eric Myers – Power Rangers Time Force (Available in October | $5.99). Eric Myers worked for the Silver Guardians as a simple soldier but eventually claimed the Quantum Ranger powers for himself and was able to travel back in time and claim the power of the Q-Rex Zord. Quantum Ranger is a long-range fighter that utilizes blaster shots and teleports to harass opponents from a distance. His offense greatly increases when his Quantum Defender is switched to blade mode.
Dai Shi – Power Rangers Jungle Fury (Available in November | $5.99). The evil spirit of an ancient eight-headed dragon, Dai Shi was imprisoned long ago until his seal was broken. Dai-Shi is a highly agile melee fighter that boasts unique movement options and attack angles unavailable to the rest of the cast. He is an effective fighter grounded or airborne.

New Character Skin: Tommy Oliver / Mighty Morphin White Ranger (Available in October | $1.99). Play as the first White Ranger with Saba on his side.
New Arena: Space Patrol Delta Base (Available Now | Free). Battle on the training grounds of the command post for S.P.D. Academy.
New Ultra: Delta Squad Megazord (Available Now | Free). S.P.D. Emergency! Call up the power of the Delta Squad Megazord to assist your team in battle.
New Banners (Available Now | Free): Unlock new banners featuring art from the new characters and Story Mode.
Power Rangers: Battle for the Grid is available now for PlayStation 4, Xbox One, Switch, and PC via Steam. The PC version launched today.
Watch the Season Pass 2 trailer below.