Death March Club 'Tattsun' voice actor reveal video
A strict rule-abider and goody two-shoes.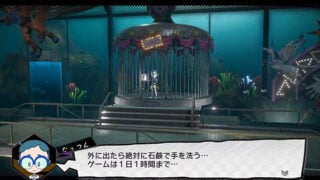 Publisher IzanagiGames and developer Too Kyo Games have released the ninth voice actor reveal video for Death March Club, which introduces Tattsun voice actor Junko Minagawa.
Here is a description of Tattsun, via the game's official website:
Tattsun is "Seriousness" and "Discipline" with a capital S and D. A strict rule-abider and goody two-shoes, even if your reason is legitimate, rule-breaking is rule-breaking, and something has to be said. He longs to be a strong, upright superhero of justice coupled with a serious personality, just like the heroes from his favorite show, "The Electro Rangers," which he has a religious-like respect for. When he sees an injustice, he'll reference the Electro Rangers, starting a long lecture and distracting everybody.
Previous videos revealed the voice actors for Chuko, Pochi, Jennu, Kansai, Reycho, Pai, Aniki, and Vanilla.
Death March Club is due out for PC in 2020. Other platforms have not been announced. Read more about the game here.
Watch the video below.