Death March Club opening movie, gameplay; planned for multiple platforms
First real look at Too Kyo Games' first title.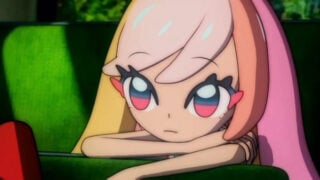 Publisher IzanagiGames and developer Too Kyo Games debuted the opening movie and first gameplay footage of Death March Club during the "Death March Club Latest Information" stage event at Tokyo Game Show 2019.
Additionally, the companies announced that Death March Club will be released for several platforms, rather than only for PC as previously announced.
Here is an overview of the game:
Death March Club is set in July 1995. A group of underachiever elementary school students called the "Losers Class" is on a bus en route to Kamakura for a school trip when a meteorite suddenly hits. When they wake up, they find themselves in an underwater amusement park.
The students are made to participate in a death game called the "Assignment Game." Each participant has a bangle attached to their wrist with another person's assignment, such as killing someone. But since a person's own assignment is not immediately available to them, they would have to get the other person to show it to them or steal their bangle somehow. Whoever achieves their assignment first will be rewarded. And those who try to abandon the game will be injected with a lethal drug via the bangle.
Watch the opening movie and gameplay footage below.