The Settlers delayed to 2020, Gamescom 2019 trailer
Build-up strategy series' return no longer planned for fall.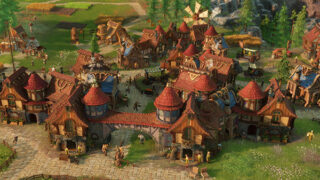 Publisher Ubisoft and developer Ubisoft Blue Byte have released the Gamescom 2019 trailer for The Settlers, its upcoming reboot of the 25 year-old franchise, as well as announced a delay from its previously planned fall 2019 release window to 2020.
Here is an overview of the game, via Ubisoft:
About

25 years after the debut of The Settlers, the legendary build-up strategy series returns to Windows PC, under the leadership of Volker Wertich, the inventor of the series. The Settlers allows players to explore, conquer, and settle new islands in a medieval fantasy world.

Key Features

Brand Reboot – The Settlers combines a fresh take on the familiar gameplay mechanics of the series with new features like a new food system and a motivational meta-game to create a unique game experience. The campaign and optional side missions can be played either solo or co-operative.

Online Multiplayer – Various online multiplayer modes offer thrilling skirmishes between players for long-lasting fun.
A Whole New World – Never before has The Settlers been so lively, rich in details and have such emotional storylines. Watch as thousands of settlers live their lives and complete their daily work, with every step of the production chain and every single good visualized.
State-of-the-Art Graphics – Powered by Ubisoft's proprietary Snowdrop engine, The Settlers sets a new visual benchmark in the build-up strategy genre.
Watch the trailer below. Visit the official website here.