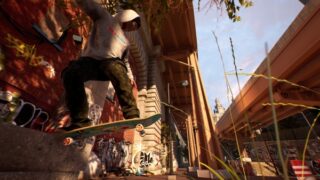 Skateboarding simulation game Session will launch for PC via Steam Early Access on September 17, followed by Xbox One via Xbox Game Preview in October, developer crea-ture Studios announced. The final release is expected to launch in early 2020.
Here is an overview of the game and Steam Early Access version, via crea-ture Studios:
Inspired by the golden era of skateboarding (the early '90s through the early 2000s), Session lets players experience what skateboarding is really like—an incredible culture where there are no goals other than expressing your creativity and achieving success through hard work, perseverance and a bit of madness. This is the most authentic and grounded skateboarding game yet: Session is a conscious move away from arcade-style skateboarding games. This is no place for button-mashers!

The PC early access version of Session will include true stance-stick controls: each "stick" controls one foot to replicate real skating while highlighting the difficulty of "switch" tricks. The skateable environment is a 1:1 scale of New York focused on lower Manhattan, featuring the legendary Brooklyn Banks and surrounding Financial District. Players will hit many of the iconic spots that helped shape what street skating is today. The game will also feature an extended video editor that allows players to create trick montages in-game and share them. Creating skate videos has always been an essential part of skate culture, and crea-ture has made sure the production matches the period-specific, VHS-style visual aesthetic.
Watch a new trailer below. View a set of screenshots at the gallery.