If My Heart Had Wings for Switch launches September 5 in Japan
Supports English, Japanese, and Chinese language options.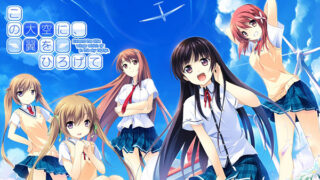 Animated visual novel If My Heart Had Wings will launch for Switch via the Nintendo eShop on September 5 in Japan for 2,500 yen, publisher MoeNovel and developer Pulltop announced. Pre-orders are available now at a discounted price of 2,250 yen. It will support English, Japanese, and Chinese language options.
If My Heart Had Wings first launched for PC in Japan in July 2012. MoeNovel released an English version of the game (Steam page) in June 2013. The English version was ported to iOS and Android in June 2014. In Japan, an updated version called If My Heart Had Wings: Cruise Sign, which includes a new character route and the If My Heart Had Wings: Flight Diary fan disc, was released for PlayStation 3 and PS Vita in March 2016.
Here is an overview of the game, via its Steam page:
Story

After a bicycle accident shatters his dreams of becoming a racer, Aoi Minase returns to his hometown, depressed and defeated. With seemingly no hope left for the future and no idea what to do with himself from here on, Aoi meets Kotori Habane―a young girl stuck in a wheelchair with a flat tire. It is on that windmill-dotted hill that Aoi's somber yet touching story of youth, friendship, and flight begins.

Upon witnessing a glider soar overhead, Aoi sets off on a journey to realize the dream everyone has as a child: the dream of flight.

Working together with Aoi's childhood friend, Ageha Himegi, the main characters of this visual novel begin rebuilding the Soaring Club, which is on the brink of disbandment at the hands of an uncaring school board. These beginners take hold of their passion, overcoming failures, obstacles, and interference from the school to put everything they have into building their own working glider.

Their ultimate goal: to fly through the legendary "Morning Glory"―a rare and stunning weather phenomenon producing a special type of roll-shaped cloud that appears in the morning when the conditions are just right.

Join Aoi on this journey as he learns about the sky, his new friends, and much more.

Key Features

Total Play Time: 20 to 30 hours.
Five character-specific story branches to playthrough.
Full voice-overs throughout the game for all characters.
Watch a trailer for the Switch version below.