Genshin Impact details Jean, Amber, Lisa, and Kaeya
Voiced by talents including Chiwa Saito and Manaka Iwami.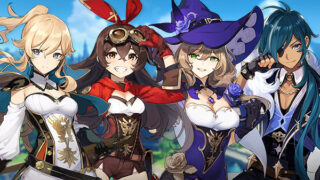 Mihoyo has updated the official website for Genshin Impact with descriptions and voice actors for Mondstadt characters Jean, Amber, Lisa, and Kaeya.
Get the details below.
■ Mondstadt Characters

Jean (voiced by Chiwa Saito)

"Wind, hear me!"

As the Acting Grand Master of the Knights, Jean has always been devoted to her duties and maintaining peace in Mondstadt.

She had taken precautions long before the onset of Stormterror's assault, and she will guard Mondstadt with her life as always.

Amber (voiced by Manaka Iwami)

"Outrider Amber, at the ready!"

A perky, straightforward girl, who is also the only Outrider of the Knights of Favonius.

As a rising star within the Knights of Favonius, Amber is always ready for any challenging tasks.

Lisa (voiced by Rie Tanaka)

"There'll be time for this later… Come sit and chat with me."

She is an intellectual witch who can never get enough naps. As the Librarian of the Knights of Favonius, Lisa is smart in that she always knows exactly what to do with whatever troubles her.

As much as she loves her sleep, she still manages to keep everything under control in a calm, composed manner.

Kaeya (voiced by Kousuke Toriumi)

"A knight's duty goes beyond the sword."

In the Knights of Favonius, Kaeya is the most trusted aide for the Acting Grand Master Jean. You can always count on him to solve any intractable problems.

Everyone in Mondstadt loves Kaeya, but no one knows what secrets this witty, charming knight has…
Genshin Impact is due out worldwide for PlayStation 4, PC, iOS, and Android in 2020.