Genshin Impact coming to PS4 in 2020
Mihoyo-developed open-world action RPG heading to console.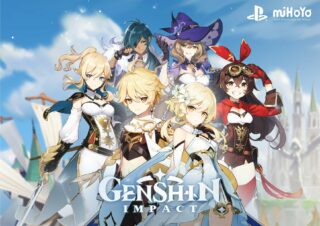 Genshin Impact, the June-announced open-world action RPG from Honkai Impact 3rd developer Mihoyo, will be released for PlayStation 4 in addition to its previously announced PC, iOS, and Android platforms worldwide in 2020, the developer announced during the PlayStation ChinaJoy 2019 online showcase.
The PlayStation 4 version of Genshin Impact will be playable at the PlayStation booth at ChinaJoy 2019, which runs from August 2 to 5 in Shanghai.
"This first ever partnership between Mihoyo and PlayStation will let us bring Genshin Impact to the broad community of console players, while also welcome players from other platforms to PlayStation," said Mihoyo co-founder Wei Liu during the showcase. "We will be continuing to optimize the PlayStation version of the game to ensure a smooth gameplay experience and adding exclusive content to the platform. We look forward to working with PlayStation and listening to feedback from PlayStation players to help us further improve Genshin Impact."
Here is an overview of the game, via the PlayStation Blog:
Explore the Open World of Possibilities

Teyvat is a world filled with secrets and surprises at every step. With freeform movement and a fast travel system, you will be able to reach all corners of the world as you please, discover numerous scattered encampments, mysterious dungeons, and treasures, or simply enjoy the sense of natural beauty. Genshin Impact provides all kinds of possibilities to ensure immersive gameplay with great freedom. Teyvat features seven city-states, each with their own distinct and exotic aesthetics, architectural style and landscape, which further enhance the enjoyment of exploration and discovery.

As an open world title, we believe freedom in all aspects of the game is a top priority. We are considering ways to further enhance the feature set, such as outfit customization and player housing. More details will be forthcoming in the future.

Master the Natural Elements

Inspired by scientific reaction, Genshin Impact features a natural elemental interaction system for the purpose of puzzle-solving, combat and exploration. Characters have control over one of seven natural elements, such as Pyro, Hyrdo, Electro, Anemo, Dendro, etc. which allows them to showcase unique and powerful elemental attacks. Meanwhile, your thoughtfulness and observations are key to using powers to create effective interactions and use them to overcome any obstacle you encounter.

Choose Your Own Allies for the Journey

As your journey goes further, you will encounter new adversaries and stronger challenges, it's unwise to go alone! Genshin Impact offers a steep roster of over 30 characters with distinctive personalities, appearances, combat styles and elemental skills, allowing you to customize your team with up to four members, and swap characters as needed.

Travel Alone, or Hunt Together

We want to create a unique world that is 100 percent yours. You can choose to play alone, to enjoy the scenery and the peace of mind, to charge head-on into battles on your own, or explore the vast map without distraction. However, if you feel lonely, or need a helping hand or two against a powerful monster, there is also the option to invite your friends into your world.

In Genshin Impact, we want to pack the game with a plethora of different experiences, from open world exploration, to narrative driven gameplay, to intensive combat. However, it's ultimately your call on how to tackle the world of Teyvat, what kind of experience you are looking for in any given moment, and what you are looking to achieve.
Watch a trailer for the PlayStation 4 version below. View a set of screenshots at the gallery. Visit the official website here.
A closed beta test was held in June for the PC and smartphone versions. Watch a series of gameplay videos from the closed beta test below.