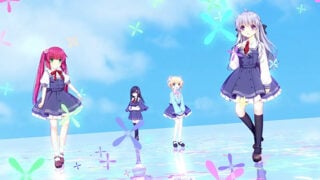 Publisher Entergram has announced Kaleidoscope of Phantom Prison, a new "girls x mental x suspense" adventure game planned and written by Ryukishi07 and illustrated by Itaru Hinoue, coming to PlayStation 4, Switch, and PS Vita in Japan this winter.
Here is a message from Ryukishi07 on the announcement:
Greetings, this is Ryukishi07.

The release of Kaleidoscope of Phantom Prison is right around the corner. Are you ready to dive into a bottomless pit, that I filled with my dark side?

Today, the character art from Itaru Hinoue was released. I adore how characters are distinctly cute, pure and innocent illustrated by Higami. The story will be a terrifying tale of how these innocent cute girls will have everything taken from them with no mercy. I hope you can look forward to the book.

The best part of stacking toy bricks is when you make them collapse. And the higher you stack the more sense of joy is to be had. Not to mention the sense of loss as well.

I wish you adore these girls for now, and wait a little more until the release.
More information will be announced on August 16 at 18:00 JST.
Watch the opening movie below, featuring the theme song "Beautiful World" sung by Emi Uema. View a set of character artworks at the gallery. Visit the teaser website here.