Death March Club 'Jennu' voice actor reveal video
An elegant, beautiful, and dignified girl.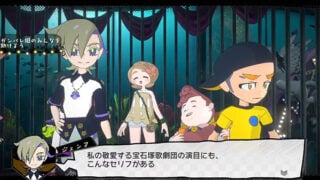 Publisher IzanagiGames and developer Too Kyo Games have released the sixth voice actor reveal video for Death March Club, which introduces Jennu voice actor Megumi Toyoguchi.
Here is a description of Jennu, via the game's official website:
A fan of the Hosekizuka Troupe, Jennu's dream is to one day become a member. She has elegance, beauty, and dignity that always shines brightly over the rest of the class. While having a feminine beauty, she's strong, brave, and more manly than the boys. Despite being an elementary school student, she's a kind of guardian to the group and tries to look out for everyone. However, if you make fun of the Hosekizuka Troupe, she'll instantly rage and has brawled with others in the past.
Previous videos revealed the voice actors for Kansai, Reycho, Pai, Aniki, and Vanilla.
Death March Club is due out for PC in 2020. Other platforms have not been announced. Read more about the game here.
Watch the video below.