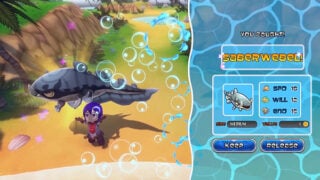 Life simulation and monster collection RPG Re:Legend will launch for PC via Steam Early Access on August 30 for $19.99, publisher 505 Games and developer Magnus Games announced.
The Steam Early Access release will allow players to access the game during its final phase of development, and offer the player community an opportunity to help the development team define the final content. The game world will expand during the Early Access phase with additional biomes.
Here is an overview of the game, via 505 Games:
About

An all-encompassing JRPG-simulator hybrid combining farming and life-simulation mechanics with strong monster-raising and multiplayer features, Re:Legend invites players to build and expand their village through a huge variety of life-simulation activities, inclusive of farming, fishing, crafting and more. Several renowned composers are working on Re:Legend, including famed Video Game Orchestra founder and composer Shota Nakama (Final Fantasy XV).

Set in the world of Ethia, players awake as a legendary hero, washed ashore on Vokka Island with no memories. Players must revive their hero, and find ways to remember the forgotten past. By learning how to survive – cultivating the land, breeding and catching fish, befriending inhabitants, expanding the village, crafting weaponry and training for combat, among all the available activities – players will increase the chances of taming and raising the Magnus, magical creatures that populate this wondrous world. With a Magnus on his/her side, the adventurer will be able to venture across the land, facing threatening challenges, finding even more powerful Magnus and eventually regain lost memories.

Key Features

Create your hero to fit your personal taste with a plethora of customization options.
Tame and grow your Magnus, impacting their evolution into powerful creatures.
Farm the land and the sea by cultivating crops, catching fish and maintaining fisheries.
Fight menacing enemies with a variety of crafted weapons and your Magnus.
Master your skills through practice, with skillsets including logging, crafting, combat, and more.
Socialize with villagers, join festivals, make new friends and even find love.
Play by yourself in single-player mode or with up to four friends in multiplayer co-op mode.
The full version of Re:Legend is planned for release across PlayStation 4, Xbox One, Switch, and PC.
Watch a new trailer below. View a new set of screenshots at the gallery.