Rakugaki Kingdom debut trailers, details
Smartphone game due out this winter in Japan.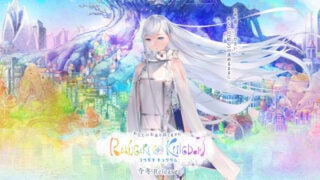 Taito has opened the official website, and released the debut trailers and information for Rakugaki Kingdom, its newly announced "draw your future RPG" for iOS and Android devices due out this winter in Japan as a free-to-play title with in-app purchases.
Get the details below.
Story

Another world, separate from reality and depicted by drawings.

"Canvas."

People called "Clockers," who possess the power of human thought and the power to create—"artistic value"—are the chosen ones regularly invited to this world. Through the power of their imagination, they can create and control mysterious life-forms called "Rakugaki."

"Win the tournament, and your any one wish will be granted."

At the base of the large, seven-color tree known as the "Palette Tree," a guide named Easel welcomes the Clockers.

However, she has a certain grave secret that she cannot tell anyone.

Systems

A Smartphone World First! The Pictures You Draw Become 3D Characters! – With the "Rakugaki System," the pictures you draw on your smartphone will become 3D characters, which you can raise and battle. Both a "Simple Mode" and "Artisan Mode" are being prepared for all players beginners to pros, allowing anyone to easily create character models to the best of their ability.
No Drawing Required! Download Player-Submitted Drawings in the Rakugaki Garage! – In the "Rakugaki Garage," you can upload and download Rakugaki characters created by other players at no cost. The Rakugaki Garage also has a ranking system organized by download number and amount of likes, as well as hashtag search support, allowing players to easily look up characters to download.
A Growth System that Allows You to Play 100 Times and Create 100 Different Types of Characters! – The growth system allows you to create completely different characters each time you play based on the choices you make and the Trestars you use, accompanied with a good-feeling, well-paced battle system.
Watch the trailers below.
Teaser Trailer
Rakugaki Trailer