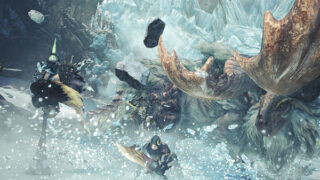 Barioth will be a huntable monster in the Monster Hunter World: Iceborne expansion, the August 2019 issue of Game Informer reveals. The magazine has a 12-page cover story on the game.
In addition to its magazine coverage, Game Informer will have a month-long of exclusive online coverage. Its first online piece is a Barioth / Banbaro turf war gameplay video.
Monster Hunter World: Iceborne is due out for PlayStation 4 and Xbox One on September 6, and for PC this winter. Read more about the expansion here.
Watch the gameplay video below.