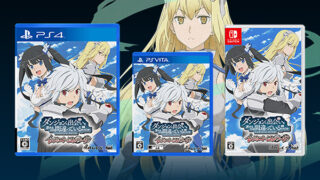 Is It Wrong to Try to Pick Up Girls in a Dungeon? Infinite Combate will launch for PlayStation 4, Switch, PS Vita, and PC via DMM Games in Japan on November 28, publisher 5pb. announced. The Switch and PC versions are newly announced. The PlayStation 4 and Switch versions will also be released in Asia on the same day with English, Traditional Chinese, and Simplified Chinese subtitles.
In Japan, the standard physical edition will cost 7,800 yen and the download edition will cost 7,000 yen, while the limited edition including the game's original soundtrack CD and Adventurer's Handbook (gameplay guide + visual book) will cost 9,800 yen.
Early purchases of the PlayStation 4, Switch, or PS Vita versions in Japan will include the side-scrolling shoot 'em up DanMachi de Shooting wa Machigatteiru Darou ka, in which players control Ais Wallenstein and choose two support characters to tackle five stages of dungeons. Players will aim for the final stage where the last boss Udaeus awaits.
Here is an overview of Is It Wrong to Try to Pick Up Girls in a Dungeon? Infinite Combate, via our previous coverage:
Clear Quests Issued by the Guild to Advance the Story – The basic flow of the game is as follows: Guild –> Dungeon Exploration –> Battle –> Return from the Dungeon. The game is set in the city of Orario, which features various adventurer-focused facilities. The player will utilize these facilities while advancing the story, exploring the dungeon, and interacting with characters.

Guild – Receive quests at the Guild, then head for the dungeon.
Familia – The goddess of your Familia can unlock skills for the player character.
Market / Blacksmith – Buy and sell weapons, armor, and items, or strengthen weapons and armor.
Hostess of Fertility Pub – A place where various adventurers gather to exchange information and the like.

Dungeon Exploration – Bell and Ais' stories will play out for each chapter. For each story, you will control and explore with the respective character. Your dungeon user interface includes the following: your HP, MP bars, skill gauge, acquired magic shards, item slots assigned to each d-pad key, and pre-chosen support characters and their skill gauges. Each support character can activate various skills.
Extra Dungeon – After clearing Story Mode, you can choose your favorite playable and supporter characters to tackle the post-game "Extra Dungeon."
Date and Hot Springs / Co-Sleeping Events – High-difficulty quests will also be added to the Extra Dungeon, which is unlocked after clearing Story Mode. By clearing these quests, you will be able to enjoy date and hot springs / co-sleeping events.
Watch the opening movie and a 15-second TV spot below, both featuring the theme song "Treasure" sung by Yuka Iguchi. Visit the official website here.
Opening Movie
TV Spot
Thanks, Famitsu.