Fire Emblem Heroes adds 'Three Houses' heroes Edelgard, Dimitri, Claude, and Byleth
Due out alongside "Cohort of the Dead" story chapter.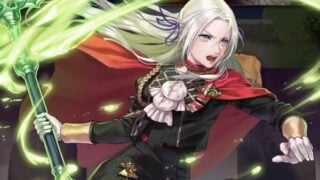 Four new heroes from Fire Emblem: Three Houses will launch for Fire Emblem Heroes alongside a new "Cohort of the Dead" story chapter on July 22 at 12:00 a.m. PT / 3:00 a.m. ET / 7:00 a.m. UK, Nintendo announced.
The new heroes include:
Edelgard (voiced by Tara Platt, illustrated by Suda Ayaka)
Dimitri (voiced by Chris Hackney, illustrated by Fujisaka Kijihiko)
Claude (voiced by Joe Zieja, illustrated by Sata)
Byleth (voiced by Jeannie Tirado, illustrated by Hirooka Masaki)
Fire Emblem Heroes is available now for iOS and Android.
Watch a trailer introducing the characters below.