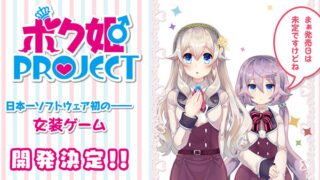 Nippon Ichi Software has released the debut trailer for Bokuhime Project, its cross-dressing-themed adventure game recently confirmed in development for PlayStation 4 and Switch. A release date has yet to be announced.
Bokuhime Project is a cross-dressing-themed game aimed at all ages, which since its initial title announcement in July 2017 was pending an official release decision until Nippon Ichi Software could confirm there was demand for a cross-dressing-themed game. In the past two years, Nippon Ichi Software had developed a fan following for Bokuhime Project through a serialized comic, official Twitter account, and events.
The newly released trailer unveils Yuki Kawakami as the voice actor for main heroine Akira and introduces the reason why the protagonist "Erika" has no other option but to cross-dress. The illustrations in the trailer will be used in the game itself.
"At the school you attend, there are four extremely beautiful girls known as princesses," Akira says in the trailer. "Your purpose is to become even cuter than those princesses. To help out your dear older sister, you must master the art of cross-dressing. So then, let us begin the great Bokuhime Project plan to surpass those beauties!"
Watch the trailer below. Visit the official website here.