Xbox Game Pass adds Metro Exodus, Hollow Knight, Borderlands: The Handsome Collection, and Batman: Arkham Knight
Xbox Game Pass Ultimate plan announced.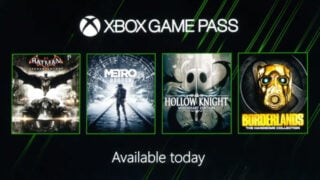 Metro Exodus, Hollow Knight: Voidheart Edition, Borderlands: The Handsome Collection, and Batman: Arkham Knight are now available on Xbox Game Pass, Microsoft announced at its E3 2019 press conference.
Microsoft also announced the launch of Xbox Game Pass Ultimate, a new plan that includes Xbox Game Pass for console, Xbox Live Gold, and Xbox Game Pass for PC for $14.99 a month
Here is an overview of each game:
Metro Exodus is an epic, story-driven first person shooter from 4A Games that blends deadly combat and stealth with exploration and survival horror in one of the most immersive game worlds ever created.

Explore the Russian wilderness across vast, non-linear levels and follow a thrilling story-line that spans an entire year through spring, summer and autumn to the depths of nuclear winter.

Inspired by the novels of Dmitry Glukhovsky, Metro Exodus continues Artyom's story in the greatest Metro adventure yet.

Embark on an incredible journey – board the Aurora, a heavily modified steam locomotive, and join a handful of survivors as they search for a new life in the East.
Experience Sandbox Survival – a gripping story links together classic Metro gameplay with new huge, non-linear levels.
A beautiful, hostile world – discover the post-apocalyptic Russian wilderness, brought to life with stunning day / night cycles and dynamic weather.
Deadly combat and stealth – scavenge and craft in the field to customize your arsenal of hand-made weaponry, and engage human and mutant foes in thrilling tactical combat.
Your choices determine your comrades' fate – not all your companions will survive the journey; your decisions have consequence in a gripping storyline that offers massive re-playability.
The ultimate in atmosphere and immersion – a flickering candle in the darkness; a ragged gasp as your gasmask frosts over; the howl of a mutant on the night wind – Metro will immerse and terrify you like no other game…

Descend into the world of Hollow Knight! The award winning action adventure of insects and heroes. Explore twisting caverns, ancient cities and deadly wastes. Battle tainted creatures and befriend bizarre bugs. Uncover ancient history and solve the mysteries buried at the kingdom's heart.

Hollow Knight Voidheart Edition includes:

The original, award winning, action adventure.
Four giant Content Packs, built in at launch, expanding the game with all new quests, terrifying boss fights and striking new abilities.

Game Features

Classic side-scrolling action, with all the modern trimmings.
Forge your own path! The world of Hallownest is expansive and open. Choose which paths you take, which enemies you face and find your own way forward.
Evolve with powerful new skills and abilities! Gain spells, strength and speed. Leap to new heights on ethereal wings. Dash forward in a blazing flash. Blast foes with fiery Soul!
Equip Charms! Ancient relics that offer bizarre new powers and abilities. Choose your favourites and make your journey unique!
An enormous cast of cute and creepy characters all brought to life with traditional 2D frame-by-frame animation.
Over 150 enemies with 40 epic bosses! Face ferocious beasts and vanquish ancient knights on your quest through the kingdom.
Chart your journey with extensive mapping tools. Buy compasses, quills, maps and pins to enhance your understanding of Hollow Knight's many twisting landscapes.
An epic orchestral score, with over 40 tracks, composed by Christopher Larkin.

Content Pack Details

Hidden Dreams: Mighty new foes emerge! New Boss fights. New Upgrades. New Music.
The Grimm Troupe: Light the Nightmare Lantern. Summon the Troupe. New Major Quest. New Boss Fights. New Charms. New Enemies. New Friends.
Lifeblood: New mapping tools. New Boss fight. Upgraded Bosses. New Music. Hidden Extras!
Godmaster: Take your place amongst the Gods. New Bosses. New Quest. New Game Mode.

Borderlands: The Handsome Collection is the essential Borderlands compilation and includes the definitive versions of both Borderlands 2 and Borderlands: The Pre-Sequel, built specifically for next-gen consoles. Experience the absolute highest performance and highest fidelity graphics for any Borderlands game ever played on a video game console. For the first time in the franchise's history, play four-player split screen on a single television, all in stunning high definition. Experience the entire Handsome Jack saga (including all available bonus add-on content*), from his not-so-humble beginnings to the heights of his egomaniacal tyranny. Continue the adventure by transferring your previous saves on your Xbox 360 to your Xbox One with the new cross-save functionality.

Borderlands: The Handsome Collection includes:

Two critically acclaimed Borderlands games in one package.
All bonus add-on content, adding hundreds of hours of gameplay at an incredible value*.
Cooperative gameplay for up to four players, either online or local.
Upgraded four-player split-screen for same couch gameplay.
Transfer your previous generation console save files and pick up where you left off.

*Includes all available downloadable content for Borderlands 2 and Borderlands: The Pre-Sequel as of March 24, 2015.

In the explosive finale to the Arkham series, The Scarecrow returns to unite an impressive roster of super villains, including Penguin, Two-Face and Harley Quinn. Batman: Arkham Knight introduces Rocksteady's Batmobile, which is drivable for the first time in the franchise. This legendary vehicle combined with the acclaimed gameplay of the Batman Arkham series, offers gamers the ultimate Batman experience as they tear through Gotham City.