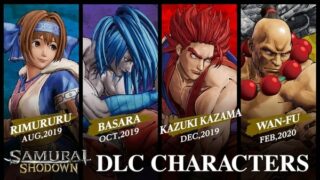 Publisher Athlon Games and developer SNK have announced the remaining lineup of downloadable content characters included with the Samurai Shodown Season Pass.
Here is the full lineup (Rimururu was previously announced):
August 2019 – Rimururu
October 2019 – Basara
December 2019 – Kazuki Kazama
February 2020 – Wan-Fu
The Season Pass is available free of charge until June 30, regardless of whether you own the game itself. After June 30, the price will change to $19.99.
Samurai Shodown launched for PlayStation 4 and Xbox One today in the Americas and Europe, and is due out in Japan on June 27. Switch and PC versions are planned for release in Q4 2019.
Here is an overview of the game, via Athlon Games:
Marking the first release in the franchise since 2008 and over 25 years since the release of the original, Samurai Shodown returns with its signature, unforgiving approach to weapons-based combat. This new Samurai Shodown "reboot" features a returning cast of 13 fan-favorite characters and three brand new characters at launch, further unlockable characters in the Season Pass, a range of competitive in-game modes and a true evolution to the fighting genre and the series in Dojo Mode.

Along with the traditional Versus Battle Mode, Samurai Shodown offers a range of modes for players to sink their blades into, including:

Practice Mode: Players can learn the ropes in a tutorial and hone their skills in training mode.
Online Mode: Friends and foes alike can battle online in a variety of competitive modes.
Story Mode: Players can witness each character's unique journey through 18th century Edo-period Japan as a new disaster threat looms over the land.
Battle Mode: Host to a variety of challenges including Versus, Time Trial, Survival and Gauntlet modes, players looking to test their skills will be pushed to the limit here.
Dojo Mode: After enough matches have been played, players can compete against their own ghost, other players' ghosts, and then share their ghost data to online leaderboards.
Watch the launch trailer below. View artwork of the newly announced downloadable content characters at the gallery.