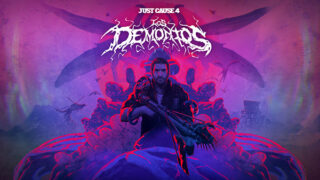 Publisher Square Enix and developer Avalanche Studios have announced Just Cause 4 downloadable content "Los Demonios," which will launch on July 3 as the second of three add-on packs included with the "Dare Devils, Demons and Danger Expansion Pass." Users who purchased the Gold Edition of Just Cause 4 will be able to access it seven days early on June 26.
Here is an overview of the expansion, via Square Enix:
When Rico & Javi, investigate a newly discovered temple off the shore of Solis, an archaeologist working with the Black Hand unexpectedly releases an ancient demonic force from its imprisonment.

A parasitic infestation now spreads across Solis, terrorizing its inhabitants and attacking any Black Hand forces that stand in its way. Rico must tackle a horrifying new threat and seek out answers to eradicate the demon invasion from the island permanently, before it's too late!

Discover a completely new sandbox gameplay experience with Los Demonios, as demonic hordes, pulsing tendrils and spore-filled clouds infest the towns and people of Solis in an exciting new supernatural addition to Just Cause 4.

Face the demons across new missions that will require all the skills and tools at Rico's disposal to emerge victorious. Vicious demons spit corrosive projectiles, possess soldiers, and even take over military vehicles and turn them against Rico.

Seamlessly integrating into the Just Cause 4 sandbox, the new missions enhance the crazy open world experience further and provide a return to the popular liberation gameplay of the Just Cause 3. Introducing new weapons and equipment to unlock, including the Demon Crossbow and Demon Egg Supply Drop, Los Demonios lets you take the new tools of destruction into the open-world sandbox of Just Cause 4 for explosive new action packed moments of glorious mayhem.
In addition to the downloadable content announcement, Square Enix today released the spring update for Just Cause 4, which includes improved graphical elements and gameplay updates. According to Square Enix, the update "completely changes the world lighting, improving the way light interacts with the environment and bringing considerable visual upgrades," as well as includes "destructible statues and train bridges, new chaos objects to destroy in the open world, more ammo and a dialed-up 'heat' system that will have the Black Hand challenging Rico like never before." Read more about the update here.
Just Cause 4 is available now for PlayStation 4, Xbox One, and PC.
Watch a new set of trailers below. View a set of screenshots at the gallery.
Los Demonios DLC
Spring Update