Gust teases new project to be announced on May 28 [Update 2]
What's next from the Atelier series developer?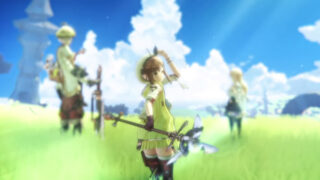 Atelier series developer Gust has opened a teaser website for a new project to be announced on May 28.
The teaser website features a 35-second teaser trailer in which we see a blue sky, grassy plains, and party of men and women over the sounds of cicadas calling in the background. The text at the end reads, "Our adventure is about to begin."
Watch the teaser trailer below.
Update 03/24/19 at 4:29 a.m.: The May 28-due issue of Dengeki PlayStation will have a feature story on Gust's new project, including details and an interview with the producer. Here is a new artwork shared by the magazine:
Update 03/25/19 at 12:15 p.m.: The latest issue of Dengeki PlayStation has revealed Atelier Raiza: The Queen of Eternal Darkness and the Secret Hideout.