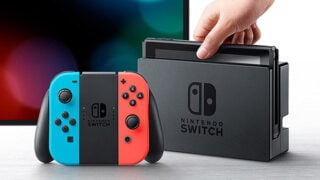 Famitsu has published its estimated physical game software and hardware sales data for Japan for the two weeks spanning April 29, 2019 to May 12, 2019.
Again, these are sales for a two-week period, which mean that the numbers are higher than normal. Software sales include the numbers posted last week. Hardware sales were not posted last week.
Speaking of hardware, this week's numbers bring the total number of Switch units sold in Japan to an estimated 8,125,637, which has surpassed PlayStation 4's estimated lifetime sales of 8,077,756 units in the country.
Get the full sales charts below.
Software Sales (followed by lifetime sales)
[PS4] Days Gone (SIE, 04/26/19) – 45,864 (160,183)
[NSW] Super Smash Bros. Ultimate (Nintendo, 12/07/18) – 33,842 (3,076,99)
[NSW] Minecraft: Nintendo Switch Edition (Bundle Version Included) (Microsoft, 06/21/18) – 28,369 (776,378)
[NSW] New Super Mario Bros. U Deluxe (Nintendo, 01/11/19) – 26,584 (611,390)
[NSW] Mario Kart 8 Deluxe (Nintendo, 04/28/17) – 26,154 (2,295,735)
[NSW] Yoshi's Crafted World (Nintendo, 03/29/19) – 20,873 (130,744)
[NSW] Pokemon: Let's Go, Pikachu! / Let's Go, Eevee! (Bundle Editions Included) (Nintendo, 11/16/18) – 20,318 (1,524,756)
[NSW] Super Mario Party (Bundle Version Included) (Nintendo, 10/05/18) – 18,309 (1,025,137)
[NSW] Splatoon 2 (Bundle Version Included) (Nintendo, 07/21/17) – 17,388 (3,063,187)
[NSW] The Legend of Zelda: Breath of the Wild (Limited Edition Included) (Nintendo, 03/03/17) – 16,206 (1,314,946)
Numbers 11 to 30 will be published at a later date.
Hardware Sales (followed by lifetime sales)
Switch – 37,471 (8,125,637)
PlayStation 4 – 17,646 (6,918,073)
PlayStation 4 Pro – 12,357 (1,159,683)
New 2DS LL (including 2DS) – 8,840 (1,619,429)
New 3DS LL – 1,511 (5,877,659)
PS Vita – 1,088 (5,859,668)
Xbox One X – 196 (15,177)
Xbox One S – 186 (90,202)
Update 05/17/19 at 2:30 a.m.: Here are the top 30 estimated physical game software sales for the week of May 6, 2019 to May 12, 2019:
[PS4] Days Gone (SIE, 04/26/19) – 11,988 (160,183)
[NSW] Super Smash Bros. Ultimate (Nintendo, 12/07/18) – 10,086 (3,076,99)
[NSW] Mario Kart 8 Deluxe (Nintendo, 04/28/17) – 8,421 (2,295,735)
[NSW] Minecraft: Nintendo Switch Edition (Bundle Version Included) (Microsoft, 06/21/18) – 8,255 (776,378)
[NSW] New Super Mario Bros. U Deluxe (Nintendo, 01/11/19) – 7,274 (611,390)
[NSW] Pokemon: Let's Go, Pikachu! / Let's Go, Eevee! (Bundle Editions Included) (Nintendo, 11/16/18) – 6,098 (1,524,756)
[NSW] The Legend of Zelda: Breath of the Wild (Limited Edition Included) (Nintendo, 03/03/17) – 5,709 (1,314,946)
[NSW] Yoshi's Crafted World (Nintendo, 03/29/19) – 5,598 (130,744)
[NSW] Splatoon 2 (Bundle Version Included) (Nintendo, 07/21/17) – 5,105 (3,063,187)
[NSW] Super Mario Party (Bundle Version Included) (Nintendo, 10/05/18) – 5,037 (1,025,137)
[PS4] Sekiro: Shadows Die Twice (FromSoftware, 03/22/19) – 3,631 (249,554)
[NSW] Super Dragon Ball Heroes: World Mission (Bandai Namco, 04/04/19) – 3,554 (112,809)
[NSW] Final Fantasy XII: The Zodiac Age (Square Enix, 04/25/19) – 2,859 (29,687)
[NSW] Nintendo Labo Toy-Con 04: VR Kit (Nintendo, 04/12/19) – 2,598 (54,978)
[NSW] Taiko no Tatsujin: Drum 'n' Fun! (Bandai Namco, 07/19/18) – 2,219 (333,474)
[PS4] Earth Defense Force: Iron Rain (D3 Publisher, 04/11/19) – 2,113 (80,804)
[PS4] Kingdom Hearts III (Limited Edition Included) (Square Enix, 01/25/19) – 1,902 (827,674)
[NSW] Kirby: Star Allies (Nintendo, 03/16/19) – 1,850 (721,888)
[NSW] Final Fantasy X | X-2 HD Remaster (Square Enix, 04/25/19) – 1,803 (31,986)
[NSW] Super Mario Odyssey (Nintendo, 10/27/17) – 1,796 (1,968,870)
[NSW] Sword Art Online: Hollow Realization Deluxe Edition (Bandai Namco, 04/25/19) – 1,788 (24,801)
[PS4] The Division 2 (Limited Edition Included) (Ubisoft, 03/15/19) – 1,521 (108,224)
[NSW] Dragon's Dogma: Dark Arisen (Capcom, 04/25/19) – 1,296 (14,841)
[3DS] Pokemon Ultra Sun / Ultra Moon (Nintendo, 11/17/17) – 1,269 (2,475,448)
[PS4] Rainbow Six Siege Deluxe Edition (Ubisoft, 04/11/19) – 1,264 (11,135)
[NSW] Super Bomberman R (Konami, 03/03/17) – 1,239 (27,330)
[PS4] Battlefield V (Electronic Arts, 11/20/18) – 1,162 (178,029)
[NSW] Mario Tennis Aces (Nintendo, 06/22/18) – 1,077 (414,854)
[PS4] Monster Hunter: World (Best Price!) (Capcom, 08/02/18) – 1,034 (47,479)
[PS4] Red Dead Redemption 2 (Rockstar Games, 10/26/18) – 1,022 (224,570)