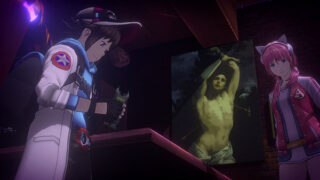 AI: The Somnium Files will launch for PC via Steam on September 17, and for PlayStation 4 and Switch on September 20 in Europe, publisher Spike Chunsoft announced.
The game was previously dated for PlayStation 4, Switch, and PC on September 17 in North America and September 19 in Japan.
Here is a brief overview of the game, via Spike Chunsoft:
AI: The Somnium Files is a detective adventure game set in a near-future Tokyo where you play as Special Agent Kaname Date on the case of a mysterious serial killer. Date must investigate crime scenes as well as dreams on the hunt for clues. From the mind of Kotaro Uchikoshi (Zero Escape series director), with character design by Yusuke Kozaki (No More Heroes, Fire Emblem series), a thrilling neo-noir adventure is about to unfold.