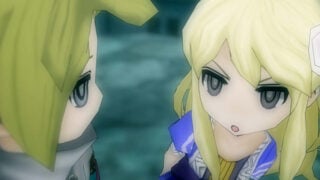 FuRyu has opened the Japanese teaser website and released the first screenshots for The Alliance Alive HD Remastered, its newly announced remaster of the 2017-released 3DS RPG.
The remastered release offers high-resolution graphics and single-screen gameplay (compared to the 3DS version's two-screen gameplay) in addition to all the enjoyment of the original release.
Here is an overview of the 3DS version, via western publisher Atlus:
One Thousand Years Ago, Daemons Invaded the World of Humans

They subjugated Humanity and created the Great Barrier to separate the realms. The world was thrown into upheaval, and the Dark Current was born. It carved a cross-shaped swath across the ocean, swallowing countless cities in its wake. Humanity was decimated. Hundreds of years later, Daemons rule atop a hierarchical society. However, the time for resistance has come. The world is about to change yet again…

Crafted by Legendary Talent

With writing by Yoshitaka Murayama, game design by Kyoji Koizumi, a vision realized by director Masataka Matsuura, and a stunning score delivered by acclaimed composer Masashi Hamauzu, players will experience the nostalgia delivered by these Japanese RPG greats. With gorgeous world exploration, an intertwining story involving nine memorable characters, and strategic, turn-based gameplay mechanics, players won't want to miss this return to Japanese RPG excellence.

Built on a sprawling world replete with numerous secrets to discover, players will need to establish and unite guilds throughout the four realms while battling the Daemons. Use the "Ignition" system, a part of the turn-based combat that allows for deep customization and nuanced gameplay, to reach an enhanced state and deliver devastating Final Strikes. In The Alliance Alive, players will need to keep their wits about them and think strategically to win each fight!
The Alliance Alive HD Remastered is due out for PlayStation 4, Switch, and PC this fall in Japan. While still not officially announced by NIS America, the Japanese press release mentions that "the western and PC versions are titled The Alliance Alive HD Remastered" (in English, as opposed to the Japanese title's katakana spelling), and that "the PC version is published by NIS America [in Japan]." NIS America will likely officially announce the western release during its 2019 showcase event on March 17.
View the screenshots at the gallery.