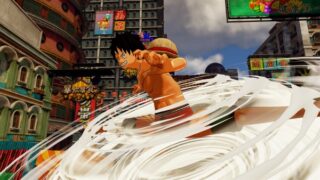 Bandai Namco has announced release windows for the additional episodes included in the $29.99 One Piece: World Seeker Season Pass.
All three episodes include new areas and more. Their release windows are as follows:
Additional Episode #1 – Summer 2019
Additional Episode #2 – Fall 2019
Additional Episode #3 – Winter 2019
For users who would rather not purchase the Season Pass, each episode will be available individually for 1,000 yen (western pricing to be announced).
Bandai Namco also provided a first look at the recently announced free update for One Piece: World Seeker, which adds the Raid Suit costume for Luffy, a Photo Mode, post-game challenge missions (time attack, etc.), and special boss evolutions (stronger bosses and bosses that use new skills).
One Piece: World Seeker is available now for PlayStation 4, Xbox One, and PC.