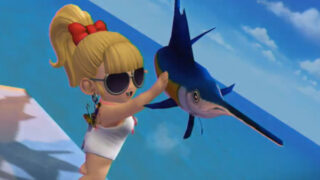 Dragon Quest Builders 2 downloadable content "DLC Pack No. 2: Aquarium Pack" will launch on March 28 for 1,200 yen in Japan alongside a new game update, Square Enix announced.
Here is an overview of the add-on and update:
■ DLC Pack No. 2: Aquarium Pack

Catch fish! Then build an aquarium with the fish you catch!

Tsuriru Island

Your fishing journey begins on Tsuriru Island, where you can clear quests, fish, and build aquariums. (You can go to Tsuriru Island after bringing the chicken to Vacant Island by accepting and clearing the request "Let's Build a Water Path" from Lulu, then reading a certain letter that arrives at the post.)

Build an Aquarium

The fish you catch in various locations can be released in the water, and new blocks capable of building an aquarium will appear. Island inhabitants will also fish.

Marine Look

By clearing a quest on Tsuriru Island, you can change your appearance to a more marine-like look.

List of Fish

Goldfish
Neon tetra
Angelfish
Blue betta
Red betta
Yamame
Char
Crucian carp
Pirahna
Clownfish
Blue hanagoi
Pink hanagoi
Horse mackere
Striped beakfish
Scorpionfish
Righteye flounder
Porcupinefish
Squid​
Jellyfish
Seahorse
Koi carp
Colored carp
Arowana
Rainbow trout
Bass
Salmon
Blue Tang
Olive flounder
Porgies
Flounder
Ocean sunfish
Moonfish
Goosefish
Chambered nautilus
Tuna
King salmon
Coelacanth​
Marlin​
Manta ray
Whale shark

Equipment

Fishing rod
Modern bathing suit

Accessories

Summer wheat straw
Prim ponytail
Cue ponytail
Ruffian mask

Walls, Floors, and Stairs

Polka dot walls
Fish-tank netting

Decorative Furniture

Fish charcoal grill
Sashimi morimorioke
Sea monument
Lava stone
Water plant
Red water plant
Coral pillar
Sea anemone
White sea anemone
Black sea anemone
Purple sea anemone
Pink sea anemonne
Red sea anemone
Yellow sea anemone
Green sea anemone
Blue sea anemone

Consumable Items

Grilled squid
Sashimi morimori
Grilled porgy
Marlin steak*
Goosefish stew*
Smoked salmon*
Sheet music to go to the sea

*Eating these items make it easier to move underwater.

New Materials Island: Bukubuku Island

By clearing the main story scenario, as well as the quests of Tsuriru Island, you will be able to go to the new Materials Island, Bukubuku Island.

It seems that rare marine life can be caught there… (Infinite material acquisition check events do not occur here.)

■ March 28 Update (Separate from Add-On)

Increased the maximum number of residents on Vacant Island's reclaimed land to 60 people.
Use Builder Hearts to obtain items.
Added setting entries for glass and water, including water transparency (dark, regular, light) and glass positioning (with or without).
When you eat specific items, you can move more easily underwater.
Several "Reclamation Recipe" requirements have been made easier.
You can go to Reclamation Island in multiplayer.
Sardines have become crucian carps.
Bug fixes.
Dragon Quest Builders 2 is available now for PlayStation 4 and Switch in Japan, and is due out in North America and Europe on July 12.
Watch an archive of the live stream announcing the add-on release date and update below.