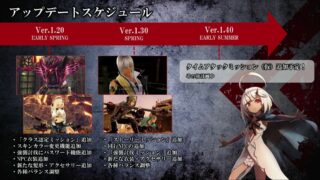 Bandai Namco announced the update schedule for God Eater 3 versions 1.20 to 1.40 during the God Eater Series 9th Anniversary Official Broadcast today.
Get the schedule below.
Version 1.20 (early spring)

Class Certification Missions

Addition of "Class Certification Missions" as new challenge content. Essentially rank-based missions, the difficulty will gradually increase as new missions are unlocked. A new Aragami named Amen Rah will also appear. Clearing these missions will earn players rewards.

System

Addition of skin color change feature to the costume equipment screen.
Addition of password setting feature to Assault Missions.

Character Customization

New NPC costumes added. Some costumes have separate tops and bottoms. Color variations are also being prepared.
New hairstyles added. There are more than just the ones pictured.
New accessories added, which can be obtained as rewards for clearing Class Certification Missions.

Aragami

Adjusted Havakiri's motions and AI.
Adjusted the HP of Neva's body parts.
Adjusted the frequency of Ashland Aragami devour attacks.

Action

Reduced the charge time for every devour action, and increased the pre-activation and post-devour motion speed.
Increased the motion speed of armor deployment when guarding.
Shortened the knock-back distance of "Standard Guard" and "Just Guard."
Added ability to change guard direction during jump guards.
Adjusted the activation conditions for some Accelerator Triggers.
Advanced Guard added to Buster Blade.
Advanced Step and Advanced Jump added to Short Blade.
Reduced post-fire cancellation timing for the Long Blade's Impulse Edge.
Increased the activation motion speed for the Long Blade's Zero Stance.
Reduced the Charge Spear's charge completion time.
Extended button time window for the Variant Scythe's "Hell or Heaven" Burst Art.
Adjusted the Link Burst Bullet so that it does not disappear if it touches the field.
Adjusted the recovery attribute Module so that it does not disappear if it touches the field.
Adjusted the speed of the "starting to walk" and "starting to run" motions at the base.

Version 1.30 (spring)

Additional Assault Missions
Character Customization

Additional costumes.
Additional accessories.

Version 1.40 (early summer)

Time Attack Missions (title tentative) – Adds "Time Attack Missions" (title tentative) as new side game content.

Other plans are also in progress.
God Eater 3 launched for PlayStation 4 on December 13, 2018 in Japan, and is due out for PlayStation 4 in North America and Europe and PC worldwide on February 8.
Thanks, Games Talk.