LoveR soundtrack ending songs sample video
Preview each heroine's ending song.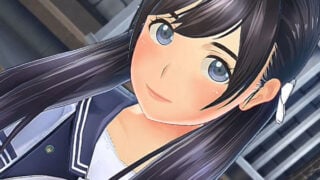 Kadokawa Games has released a new trailer for LoveR sampling the six heroines' ending songs on the original soundtrack CD included as a pre-order bonus with the love simulation game in Japan.
The following songs are featured in the trailer:
Title Undisclosed – Yumina (voiced by Yumiri Hanamori)
"Dancing Idol Toujou!" – Romi Nakaza (voiced by Yuuki Takada)
"Houkago, Yuuyami" – Rinze Himenoki (voiced by Yui Ishikawa)
Title Undisclosed – Kasumi C. Ikuno (voiced by Manaka Iwami)
"Manatsu no Love Chance" – Nanatu Higadera (voiced by Kanae Itou)
Title Undisclosed – Riria Takamura (voiced by Reina Kondou)
All music is by Noriyuki Iwadare, and all lyrics are by Ichirou Sugiyama. Find the full track list here.
LoveR is due out for PlayStation 4 on March 14 in Japan.
Watch the video below.