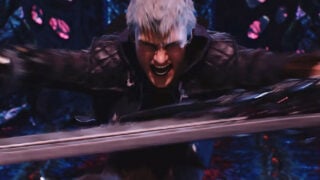 Capcom has released two new trailers for Devil May Cry 5, the first announcing a collaboration with HYDE (L'Arc-en-Ciel) for the original song "Mad Qualia," and the second being a Japanese voices version of the recently released "Main" trailer.
The game's Japanese voice actors are as follows:
Nero (voiced by Kaito Ishikawa)
Dante (voiced by Toshiyuki Morikawa)
V (voiced by Kouki Uchiyama)
Nico (voiced by Lynn)
Trish (voiced by Atsuko Tanaka)
Lady (voiced by Fumiko Orikasa)
Kyrie (voiced by Saori Hayami)
Morrison (voiced by Akio Ootsuka)
Devil May Cry 5 is due out for PlayStation 4, Xbox One, and PC on March 8, 2019. A demo is available now for Xbox One.
Watch the trailers below.
HYDE Collaboration Trailer
https://www.youtube.com/watch?v=AXJRnqFzR7s
Japanese Voices Trailer