Ninja Box teaser trailer, first screenshots
Teaser website opened.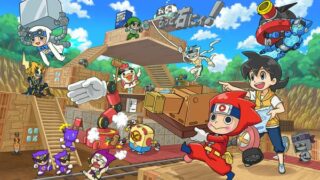 Bandai Namco has opened the teaser website for its newly announced Ninja Box for Switch, revealing the teaser trailer and first screenshots of the "secret base building RPG."
Here is an overview of the game, via the teaser website:
■ What is Ninja Box?

Ninja Box is a completely new and original project from Bandai Namco Entertainment.

■ What kind of game is it?

The theme is building. Create your very own secret base—the only one in the world! Build your own relaxation space! Gather materials to make parts and traps! You can even create gigantic forts!

■ Super Cool Characters

Tonkachi

A ridiculous, always festive, show-off ninja from Tatemakuri Village. He records and uploads videos from his smartphone, which is attached to his forehead, and while they are not popular, he is always only thinking about how to get more views. The hammer that he carries is actually a high-tech item!?

Hiroto

A fifth grade boy with normal grades, normal reflexes—super normal everything. However, his reactions are exceptionally large. He meets Tonkachi and gets wrapped up in building a base.
A release date for Ninja Box has yet to be announced.
Watch the teaser trailer below. View the screenshots at the gallery.