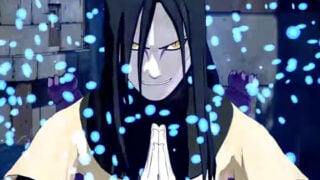 Bandai Namco has released a new trailer for Naruto to Boruto: Shinobi Striker introducing the Orochimaru downloadable content.
Players will be able to use Orochimaru for free as part of a game update available today. By purchasing the downloadable content "Special Master: Ninjutsu Training Vol. 3" for $3.99, players will unlock Orochimaru as a Master Character, granting them access to his move set, costume, and weapons for their own in-game avatars.
Here is what is included:
Inherited Ninjutsus

Ninjutsu: Multiple Striking Shadow Snake, Wind Style: Great Breach
Secret Technique Ninjutsu: Summoning Jutsu: Reanimation

Inherited Items

Weapon: Kusanagi Sword (Orochimaru)
Avatar Parts: Hair (Orochimaru)
Costume: Oromchimaru Outfit: Top and Bottom, Orochimaru's Ninja Way T-Shirt
Naruto to Boruto: Shinobi Striker is available now for PlayStation 4, Xbox One, and PC.
Watch the trailer below.
https://www.youtube.com/watch?v=yFG7WioYAqY