Original 11/20/18 at 10:16 a.m.: The latest issue of Weekly Famitsu has a first look at Rorona in Atelier Lulua: The Scion of Arland.
In Atelier Lulua, the protagonist is Rorona'a daughter, Elmerulia Fryxell—more commonly known as Lulua.
Here are a couple of other shots from the magazine: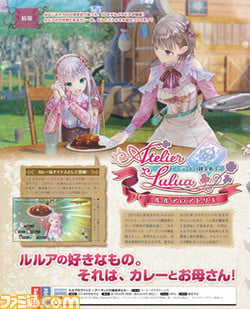 Atelier Lulua: The Scion of Arland is due out for PlayStation 4 and Switch in Japan in 2019, and for PlayStation 4, Switch, and PC in North America and Europe in spring 2019.
Further information has not yet leaked from the magazine.
Thanks, Famitsu.
Update 11:18 p.m.: New information has come out of the magazine.
Rorolina Frixell (Rorona) – Here is a quote from Rorona: "The rebellious age!? Am I not qualified as a mother!? I must not be qualified as a mother! Is that right, Lulua!?"
Chimdragon – A carriage driver who does his job flawlessly. One of the Homunculus Chims, this one has seen huge growth thanks to a certain secret medicine. He calls Lulua "Nano Master" and Piana "Master."
Fickes Finis – A young man and magician. He participates in battle, seemingly using playing cards as his weapon. Here is a quote from Fickes: "Hahaha! Good for you then, Lulua! It's not good to ignore your pal!"
Nicodemus David Dieter (Nico) – A sailor once called Nico of the Stormy Sea, this former young pirate is now an adventurer. He also participates in battle.
Alchemy Riddle Book – A book filled with mysterious keywords. By deciphering them, you will get recipes and skills to advance the story. Where you decipher it from is up to you.
And here is the voice cast:
Elmerulia Frixell (Lulua) (voiced by Miyuri Shimabukuro)
Eva Armster (voiced by Kana Asumi)
Kristoff Aurel Arland (Aurel) (voiced by Natsuki Hanae)
Piana (voiced by Kaoru Akiyama)
Fickes Finis (voiced by Wataru Hatano)
Nicodemus David Dieter (Nico) (voiced by Yoshitsugu Matsuoka)
Rorolina Frixell (voiced by Mai Kadowaki)
Lionela Heinze (voiced by Kei Shindou)
Chimdragon (voiced by Yuuko Sanpei)
Thanks, Ryokutya2089 (2)