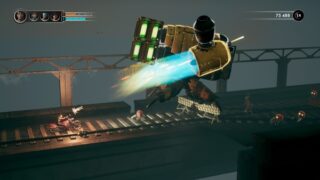 Steel Rats will launch digitally for PlayStation 4, Xbox One, and PC on November 7 for $19.99, developer Tate Multimedia announced. On PlayStation 4, a Deluxe Edition including the game, a PlayStation 4 theme, five avatars, and the game's soundtrack will also be available for $22.99.
In Japan, publisher 3goo will release a physical edition for PlayStation 4 on November 29.
Here is an overview of the game, via Tate Multimedia:
A visceral and groundbreaking evolution of the 2.5D action–arcade genre, Steel Rats fuses destructive, octane-fueled motorbike combat and death-defying stunt gameplay, all set in a visually stylized, retro-future world. Switch between four unique and upgradeable characters as you wreak havoc and defend your city from an invading armada of junk robots.

Steel Rats is already lighting up the 2018 awards scene with eight nominations and one win for 'Best Gameplay' at the Game Connection Awards, a nomination for 'Best Indie Game' at the Digital Dragons Indie Showcase, and a win for 'Best Gameplay' at Pixel Heaven in Poland earlier this month. The game has been touring the convention circuit over the past year, having been at EGX Rezzed, PAX East, Pixel Heaven, gamescom, PAX West and most recently Tokyo Game Show, sometimes even playable on a giant nine-foot-tall robot demo station.
View a new set of screenshots at the gallery.