Side-scrolling shoot 'em up BLACK BIRD for Switch launches October 18
PC version not dated.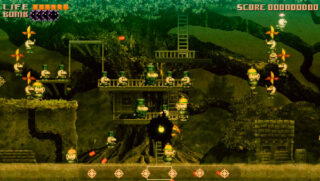 Onion Games will release side-scrolling shoot 'em up BLACK BIRD for Switch via the Nintendo eShop on October 18 for $19.99 / 1,980 yen, the developer announced. The PC version was not dated.
Here is an overview of the game, via Onion Games:
About

Once upon a time, there was a pitiful girl. Because nobody helped her, she had died. After a while, a mysterious gentleman appeared from nowhere, and poked her with his cane. Then the girl became a big, big egg. The egg broke with a crisp sound, and a vicious "black bird" was born.

Key Features

A darkly humorous world, built with loving care, pixel by pixel.
A unique audio / visual mix combined in an action-packed shooting game.
Eight different endings!
Watch a new trailer below. Visit the official website here.