Persona Q2: New Cinema Labyrinth Margaret trailer
Persona 4's Velvet Room attendant.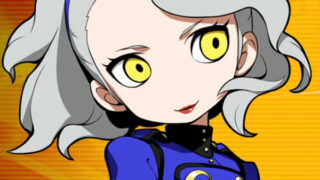 The 22nd character trailer for Persona Q2: New Cinema Labyrinth introduces Persona 4's Margaret (voiced by Sayaka Oohara).
Previous character trailers introduced Aigis, Kanji Tatsumi, Yusuke Kitagawa, Justine and Caroline, Koromaru, the protagonists of Persona 3, 4, and 5, Ken Amada, Yukiko Amagi, Ryuji Sakamoto, Elizabeth, Theodore, Akihiko Sanada, Chie Satonaka, Futaba Sakura, Shinjiro Aragaki, Naoto Shirogane, Morgana, and Junpei Iori.
Persona Q2: New Cinema Labyrinth is due out for 3DS on November 29 in Japan. If you missed our previous coverage, read up on the game's story and systems here. A few additional tidbits of information are also available here.
Watch the trailer below.