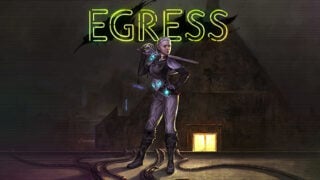 Egress, the heroes-based player-versus-player arena game with a focus on melee Souls-like battles, will launch for PC via Steam Early Access on November 8, followed by PlayStation 4 and Xbox One in early 2019, developer Fazan announced.
Here is an overview of the game, via Fazan Games:
About

Egress is a heroes-based player-versus-player arena game with a focus on melee Souls-like battles. Choose your hero with unique abilities, weapon, and play style, and fight for your team! Explore the multi-level city, capture the points, use stationary cannons, and find artifacts and consumables.

Key Features

Lore-filled alternate universe, combining the Victorian era, Lovecraftian mythology, and Electro-punk.
The multi-level city. Explore houses, stores, bars, clinics, sewer tunnels, and much more.
Elaborated combat system based on attacks and dodges, ability combinations, as well as the strengths and weaknesses of characters, their roles, and equipment.
Collectible artifacts and consumables. Change the parameters of the character, use potions and grenades, and block paths with fire.
At the start of Early Access, the game will not feature a Battle Royale mode, only a Pinata mode. Here is an overview of Pinata mode, via Fazan:
Choose your side in a confrontation between two teams, and destroy the enemy's pinatas and protect yours using new stationary cannons. Turn the destroyed opponent's pinatas into your own, gather points, and lead your team to glorious victory!
Battle Royale mode will be added at a later date during Early Access.
Early next week, Fazan also plans to release an update to the game's ongoing closedd beta testing, including global progression and a new map (both of which will be included in the Early Access release). Here is an overview of both additions, via Fazan:
Global Progression

You have to choose one of three sides—the Alchemy Academy, the League of Miners, or the Hunter's Guild. Each side will have killing statistics and points. While fighting, players will gain experience and levels. This will allow players to unlock and use a new passive abilities.

Additionally, the side you choose will have a slight effect on the effectiveness of the items you pick up during the game. As you may have noticed, many of the items were created by a certain side (for example, poisonous artifacts are made by the Alchemy Academy, most of the defensive items by the League of Miners, etc.). Items created by your side can be used more efficiently.

New Map

The new map is designed for a smaller number of players, as there will be only three points. One of the central objects of the map is a power station, where electricity is generated from resources mined in The Nowhere. Directly under the power station, in the caves, one of the portals to another world was created. Here, workers from the Guild of Miners extract valuable substances from another world.
Watch a teaser trailer for pinata mode from back in August below.