Warframe for Switch launches November 20
Free-to-play space ninja action game dated.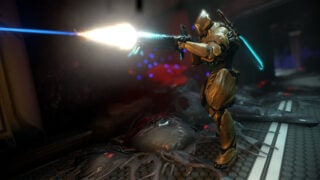 The Switch version of free-to-play space ninja action game Warframe will launch on November 20, developer Digital Extremes announced. It is currently available for PlayStation 4, Xbox One, and PC.
Here is an overview of the game, via Digital Extremes:
About

With more than 38 million registered players worldwide, the cooperative, free-to-play hit Warframe is a third-person online action game set in an evolving sci-fi world. Warframe gives players the chance to master the Warframe armor as the enigmatic Tenno, a race of ancient warriors wielding blade and gun, who are awakened from centuries of cryo-sleep by the mysterious guide,Lotus,to restore order throughout the Solar System.

Key Features

Space Ninja Action: Play solo or assemble two-to four-player squads in epic PvE or PvP battles as a blade and gun wielding warrior with insane parkour moves, mind-bending powers and endless missions to master throughout the Solar System.
Your Warframe: Each Warframe possesses a different set of devastating offensive and defensive Abilities that can be increased and modified to help change the course of any battle; don't miss the infinite cosmetic customization combinations players refer to as 'Fashion Framing'. Show off your style
The Foundry: Collect artifacts, blueprints and resources to craft unique weapons and new Warframes.
Mod System: Collect, combine and create custom Mods to tailor your Warframes, weapons, pets and Sentinels to create a deeper, more personalized experience.
Clan Dojo: Unite your clan: Build rooms, new weapons and lavishly decorate your Clan Dojo, plus hone your skills in one-versus-one duels against your clan-mates.
Sentinels and Pets: Add a fierce companion to accompany you into battle; choose from hovering mechanical Sentinels or Kavats and Kubrows, the sci-fi versions of cats and dogs. Collect precepts to train your Sentinel and pets for battle, protect you from enemies, gather artifacts and more.
Automatic Mission Generator: Never experience the same mission twice with procedurally configured levels for a unique raid every time.
Open Worlds: Explore beyond the caves and corridors through the vast Plains of Eidolon; spend the day and night visiting with inhabitants, fishing, flying and battling the mysterious Spectral Sentients.
New Content Monthly: The depth of gameplay and playability continually evolves with major monthly content updatesthat are meaningful and game changing,not just cosmetic additions.
Warframe Nexus: Stay in tune while away from the game with the iOS and Android Companion App –receive Alerts to critical missions. Track your Foundry progress and stay up-to-date on all aspects of Warframe through the extensive Codex database.
Fair Economy AAA F2P: A constantly evolving, feature rich, Free-to-Play game with AAA quality production value along with gamer and industry wide praise of its fair Free-to-Play economy.
Watch the Switch release date announcement trailer below.