New Digimon Story game in development with PS4 as base
Words from Digimon game series producer Kazumasa Habu.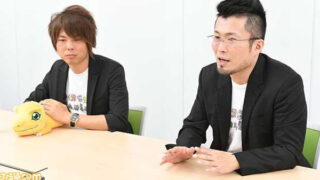 Famitsu has published a lengthier, more detailed version of its interview with Digimon game series producer Kazumasa Habu that first appeared in Weekly Famitsu earlier this month. The detailed interview confirms the new Digimon Story Habu confirmed is being developed with PlayStation 4 as its base.
Here are the snippets:
Habu on where Digimon Survive stands within the Digimon game series…

"A new Digimon Story is also in development with PlayStation 4 as its base, but development is going to take a bit of time. With things like current hardware specifications and support for a worldwide release, development on a single title has become extremely time consuming. Then we would have a situation where there are no developments at all next year or the year after next. If too much time without new content passes, most people will lose interest. So I'd like to continue releasing games with Digimon characters and keep a hold on our fans as not to let that happen. First, we're offering Digimon Survive as all-new content. Digimon is of course not only popular through its initial virtual pet toy, the popularity of its characters expanded as the TV anime aired. If you include fans who got into the series from there, the series has quite a following from core fans to light fans. So we're preparing this new title with an original world to be enjoyed by the fans that are constantly following Digimon in addition to players who may not have gone near the series in a while, or who may not know of it at all to play and enjoy. I'm hoping that doing so allows us to embrace a wide range of fans and turn this game into a new core series."

Habu on the future of Digimon games…

"In the future, I hope to the games will continue to expand the world of Digimon in their own way. Digimon has become a title with many series such as anime and toys, and is very complex. So it might be difficult for new people to get into, but in the world of games, even players who don't know of Digimon can come to know of and enjoy it through the game. Those are the types of games I'd like to deliver. Also, while it might be too early to discuss, I also hope to think about a Digimon game that utilizes online. However, as games become more complex, the threshold only gets higher, and I personally want to value the game nature and ease of play that even light players can enjoy. Of course, I also want to keep the focus on making the presentation, characters, and world more fascinating."
Digimon Survive is due out for PlayStation 4, Xbox One, Switch, and PC in 2019. In Japan, it will only be released for PlayStation 4 and Switch.