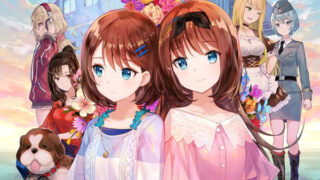 Kogado Studio has announced Yumeutsutsu Re:Master, a new visual novel from its Shimarisu-san Team, for PlayStation 4, Switch, PS Vita, and PC. It will launch in February 2019 in Japan. The PlayStation 4 and Switch versions will be digital-only.
While Shimarisu-san Team's previous title, Nurse Love Addiction, was a story of nurses and nursing students working in the medical field, Yumeutsutsu Re:Master is a story of the various people working at a game development studio.
The setting is Eureka Software, a small game development studio quietly stationed in Kouenji, a town close to the center of Tokyo where the heart of the traditional working class still remains. The story begins as the protagonist Ai, a simple-minded country-bred girl, visits her little sister Kokoro, who has been living away for a long time due to their parents' circumstances and now works for a game company.
Ai finds employment at this unknown game development studio overflowing with strange characters, where she will be overwhelmed, but pass each day in excitement. The only problem is that Ai's little sister has a piercingly cold attitude towards her. Ai, who came to Tokyo for her sister, has lost Kokoro's support. And then there is the legendary game "Nie Witch," which has been handed down in the studio from their seniors.
The game's staff includes:
Character Design / Main Image: Fuzichoco
In-Game Images: Fue (Katahane), Akira Hayase (Nurse Love Addiction)
Sub-Character Design: Miyabi Fujieda (Twinkle Saber Nova, Ameiro Koucha Kankandan)
Main Scenario Writer: Hio Kouzaka (Nurse Love Addiction, 384, 403km Anata no Tsuki ni Sarattara)
Sub Scenario Writers: Hatsumi Simizu (Flowers series), Naoyuki Takeuchi (Tristia of the Deep-Blue Sea series), and Maoto Nishikawa (Symphonic Rain, Exile Election)
It should be noted that the game's official website has options for English and Chinese that currently unavailable, suggesting English and Chinese localizations of Yumeutsutsu Re:Master may be planned. Update 7:25 a.m.: Kogado Studio's Miyazar has told Gematsu, "While an English release is still undecided, with how things are nowadays, it will undoubtedly happen in due time. (As for whether we're able to pull off a simultaneous relese, that's difficult to say…)"
Watch the announcement trailer below. View the first screenshots at the gallery.