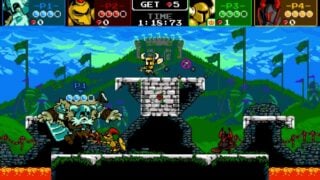 Yacht Club Games has announced Shovel Knight Showdown, the final game part of the Shovel Knight: Treasure Trove.
Shovel Knight Showdown will be available as a standalone release for $9.99 and as a free update to Shovel Knight: Treasure Trove on PlayStation 4, Xbox One, Switch, PlayStation 3, Xbox 360, Wii U, PC, Mac, Linux, and Amazon FireTV. A release date has yet to be announced.
Here is an overview of the game, via Yacht Club Games:
About

Duel with up to four players and scramble after gems as your favorite heroic or villainous knight in Shovel Knight Showdown. All the classic Shovel Knight characters you know and love are playable, many for the first time ever! Gather your pals for endless multiplayer clashes, or take control of your favorite character and dig into Story Mode. Familiar controls, items, and mechanics return, making this a platform fighting game that anyone can jump into and try.

Key Features

Play as all the key heroes and villains from Shovel Knight, many for the first time ever! Master over 16 playable characters including Shovel Knight, Shield Knight, Black Knight, The Enchantress, and all of the Knights of the Order of No Quarter!
Compete in one-on-one duels, frantic 4 player free-for-alls, and cooperative team battles against AI opponents or your friends in modes like Gem Clash, Showdown, and more!
Battle through Story Mode, a multistage journey customized for each character! Your chosen hero will face a rival, defeat scores of opponents, relax with a minigame or two, and hopefully see their tale completed after an all-new final encounter!
Explore myriad stages inspired by famous characters and locales in Shovel Knight, as well as a plethora of all-new stages.
Prepare and perfect your moves in a full-featured practice mode.
Yacht Club Game's beautifully authentic style bridges the gap between yesterday and today. Design, art, and audio hearken back to the days of 8-bit, but with a frenetic new coat of paint!
New songs compliment an award-winning soundtrack composed by Jake "Virt" Kaufman.
Balanced and intuitive gameplay is a warm welcome to newcomers, and an old embrace for experts.
Watch the first footage below, via IGN. View the first screenshots at the gallery.