Luigi's Mansion for 3DS launches October 12 in North America, October 19 in Europe
3DS remake features updated look and new features.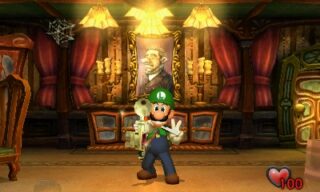 The March-announced Luigi's Mansion remake will launch for 3DS on October 12 in North America and October 19 in Europe for $39.99, Nintendo announced.
Here is an overview of the game, via Nintendo:
In the Luigi's Mansion game, a Nintendo 3DS remake of the spooky Nintendo GameCube game, Luigi must enter a sprawling mansion equipped with nothing but his trusty flashlight and Poltergust 3000, a vacuum-like contraption used to capture ghosts, find treasure and solve puzzles.

This is the first time the Nintendo GameCube classic can be played on the go. This updated version of the game includes the same classic adventure, but with some added features perfect for Nintendo's popular portable systems. Using the bottom touch screen on the Nintendo 3DS family of systems, players can view the mansion map.

In the new Gallery Battle Mode, exclusive to the Nintendo 3DS version of the game, Luigi will have the ability to re-challenge boss ghosts that were defeated in the game.
View a new set of screenshots at the gallery.