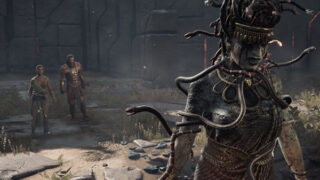 Ubisoft has released a new, five-minute gameplay video of Assassin's Creed Odyssey dubbed "The Hunt for Medusa."
Here is an overview of the video, via Ubisoft:
See high-level combat abilities in action as we explore new areas of Ancient Greece in the hunt for the sinister, snake-haired Medusa in the Gamescom demo of Assassin's Creed Odyssey. Watch for tips on how to track her down and avoid being turned to stone.
Assassin's Creed Odyssey is due out for PlayStation 4, Xbox One, and PC on October 5.
Watch the footage below.